Moving home can take ages and usually it requires a small fortune when not done in a proper and professional way. If you hire Get Removals, however, you will not simply reduce your relocation expenses, but you will also get a speedy and effective service. We will not make you pay for things you do not really need, since we appreciate your trust and time. What our removal business will do is give its best to make your house removal smooth and convenient.
We will make your move risk-free
Our qualified and meticulous staff has done the impossible to make our domestic removals in London extra safe. When it comes to the security of our clients' items, we do not spare our time or resources. Get Removals is one of the few companies in London that can provide you with:
Secure and reliable transportation and delivery – Our moving vans are insured and fully-serviced. The transit vehicles we use in our work are GPS-navigated and they come with great safety equipment, like pads, furniture blankets and mover's belts.
Moderately-priced insurance – We offer coverage for goods in transit and removals insurance at a very competitive price.
Storage space under 24/7 surveillance – We have a top protected storage facility in London, where you can keep your belongings and furniture for short or long periods of time.
Our team will quickly pack your belongings
To make your household relocation experience even more risk-free, we will offer you professional packing solutions. Get Removals can send skilled and polite packers to your home at a time and date of your choosing. Our trained and seasoned experts will prepare your possessions for their transit by packing them with special and durable supplies, including:
Sturdy moving boxes
Recycled packing paper
Bubble rolls
Tapes
Packing peanuts
The removal boxes we have are available in various sizes and for different types of items (clothing, files, books, etc.). What is more, they can be delivered for free right to your doorstep if you choose to pack your possessions alone. If not, you can always opt for our full packing service or for our partial packing solutions. Our competent and careful team is well-trained and experienced in preparing and securing valuable and special items, like antiques, fine art pieces, collectable and musical instruments. The best thing about our packing service is its price – always affordable, even for our full packing offer.
Best moving vans in London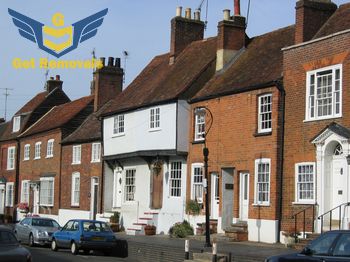 Your furniture and belongings will be transported to your new house with clean and properly-equipped transit vehicles. Our armada of moving vans and trucks has no equal since it is highly advanced and ultramodern. In addition, our competent and diligent technicians constantly keep an eye on our machines, preventing any unpleasant performance issues. Get Removals' vehicles are also incredibly eco-friendly and they come in many different sizes, allowing us to adequately transport your items without polluting the nature.
London is one of the largest financial centers in the world. More than 100 of the biggest and most powerful companies are set in the UK capital together with about 50% of the 100 FTSE firms. That and the fact that the city has been among the most powerful financial centers ever since the 1800s, is partly why London ranks as the top global center of commerce. Although Asian cities like Shanghai and Hong Kong have turned into a top competition for the English capital, London continues to remain the biggest hub of international bank lending, foreign exchange markets, and derivatives markets. London has another money-related title – home of the largest number of billionaires in the world (80 to be precise).