Why handle your waste clearance duties on your own when you have use our garbage collection services and have the peace of mind that the job will be carried out in a diligent, professional and punctual manner. We are fully licensed contractors and we provide high standard junk removal services in London.
Properly equipped technicians
The scale of your rubbish disposal project won't be an issue because we have the necessary manpower, technical capacity and knowledge to handle it. Throughout the years we have worked on an abundance of waste clearance jobs and we have managed to complete every single one of them with flying colours and without any additional complications. We are certified to collect the following types of garbage:
Sanitary waste
Old furniture and items
Construction waste
Landscaping waste
Out of date appliances and electronics
Paper waste
Common everyday waste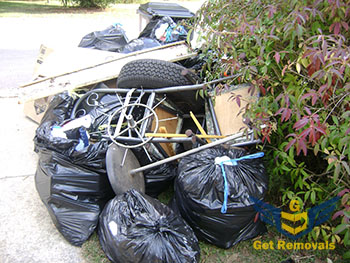 The only types of rubbish that we cannot dispose of are toxic and chemical junk. However, we can aid you get in touch with technicians who are equipped and licensed to removal hazardous garbage.
We can also solve all your waste storage problems by renting you one or several of our skips. Our bins are fully approved by the local authorities and can be used for the keeping of the above mentioned types of rubbish. If you desire we can fit our skips with locked covers in order to prevent people from going through your garbage. Our bins range in size and can be rented for very affordable rates.
Best prices waste clearance options
You should know that we are known to provide cost effective junk removals in London due to the fact that we don't work with a fixed pricelist. Instead we form our service fees by taking into account the unique details of each garbage collection project for which we are hired. This way we are able to accommodate even the tightest budgets and maintain a reasonable quality/price ratio. You can see in advance how much our assistance will cost you by giving us a call and requesting a quote. Bear in mind that our quotations are free, non-binding and final.
Learn more about our company and our London junk removal services by exploring our website in full. Also feel free to use the online booking form which we have provided in case you cannot contact us directly via telephone or e-mail. Know that we are eager to work with you.
As you have already understood our firm is seated in London, the capital of the United Kingdom. It has an estimate population of 14 million people and is one of the most populous cities in Europe. According to the latest numbers, London is the most visited city in the world. This is due to the fact that the city is home to several internationally known landmarks including four UNESCO World Heritage Sites. Among the most notable sites of the English capital are Big Ben, the Tower of London, Tower Bridge, London Eye, the Shard, the British Museum, Tate Modern, Buckingham Palace, the Palace of Westminster and many more.